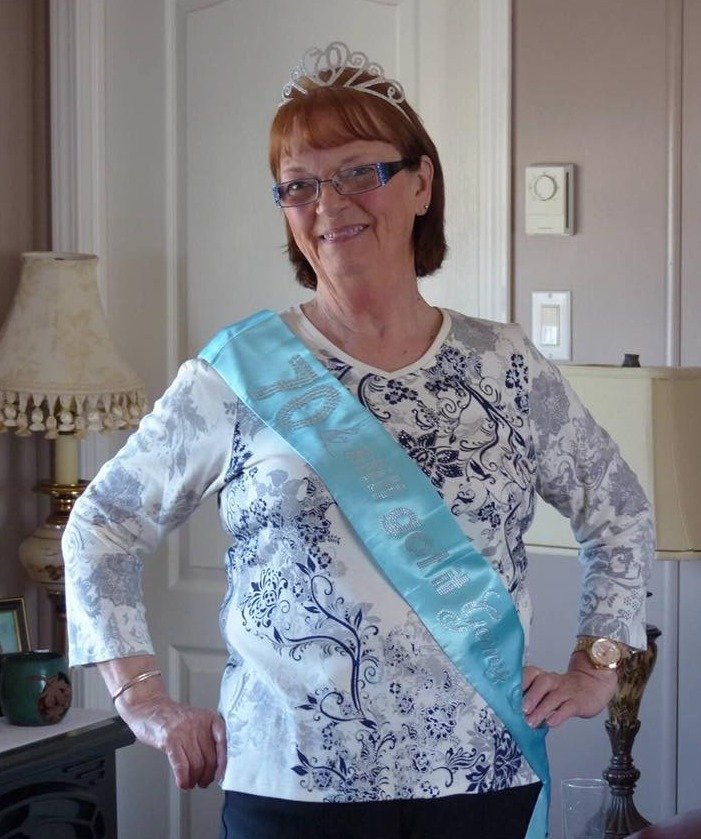 Obituary of Carola P. MacDonald
"My precious, precious child, I love you and I would never leave you. During your times of trial and suffering, when you see only one set of footprints, it was then that I carried you."
~Footprints in the Sands
Carola Phyllis (nee MacAskill) MacDonald - born March 23, 1946 – died February 8, 2021.
It is with heartfelt sadness that we announce the passing of our loving wife and mother Carola. Uiseag * (pronounced Wishak) was born and raised in Englishtown, Cape Breton, NS, in a large loving family and community. She grew up knowing the meaning of hard work so if she wasn't moving she wasn't content. The kitchen was her domain and was known the country over for her traditional delicacies. Her marag, biscuits, oatcakes and multi – tier wedding cakes made especially for her extended family and friends were second to none.
Mom took great pride in providing a loving home for Roddie and her kids. Her house was spotless, the food was delicious, the laughter was infectious and the traditional music was loud. Many kitchen parties, water fights and pranks were had in the MacDonald home. Mom always said she was lucky to have such wonderful children and husband, but we were the lucky ones.. She was a mother with grace, beauty and courage right to the end – holding our hands and telling us we will be ok.
Mom is survived by her loving husband of 55 years, Roderick and three children, Stuart (Karen), Paula DeMerchant (Peter) and Sadie (Karen). Her loving grandchildren, Ashton (Phil), Kailyn, and Randi (Josh) and great - grandson Logan are also left to mourn.
Mom is also survived by her loving siblings Kenny, Angus (Marion), Jane, John A (Donelda), and Barb, sisters – in – law Pat and Marguerite.
Her life was made more complete with an entire clan of nieces and nephews and their families.
Mom loved her extended family as much as she did her own, mother – in – law Sadie and father – in – law Neil R, brother – in – law Murdock and sister – in – law Mora.
In addition to her parents, John and Margaret MacAskill, Mom was predeceased by her loving siblings Laura, Jessie, Anna, Tena, Allister, Norman, Emiline, George and Archibald; sisters – in – law Donna, Lillian and Jocelyn, brothers – in – law AJ, Tom, John, Jim Munro, Jim Wilson, Carl, Malcolm, Leo, and Elmer, father and mother in – law Neil R. and Sadie.
Carola's family would like to express their sincere gratitude towards the wonderful staff at Saint John Regional Hospital Trauma Unit, 4CN Internal Medicine and Palliative Care Unit for their devotion and care for mom. There are simply no words to express our thanks for all that they did to ease Mom's journey and to help us through this very difficult time.
Thanks are also extended to Dr. Andreani, the Esbriet Inspiration Patient Assistance Program, and IPAP nurse Wendy Bransfield for helping Mom with her diagnosis and treatment of Idiopathic Pulmonary Fibrosis over the year as well as the New Brunswick Extra – Mural Program Respiratory Therapists.
Due to COVID – 19 and in keeping with Mom's wishes there will be no visitation or funeral. When COVID – 19 restrictions ease and time allows we will gather with family and friends to celebrate this remarkable woman.
In lieu of flowers, donations may be made to SJRH Foundation (Level 1) in care of 3BN Palliative Care Unit or the Canadian Pulmonary Fibrosis Foundation.
To send a condolence to the family or make a donation in Carola's memory please visit www.humphreysfh.com
Arrangements have been entrusted to the care & direction of Humphreys Funeral Home, 20 Marks Street, St. Stephen NB, E3L 2B2 (506 – 466 – 3110).


Share Your Memory of
Carola