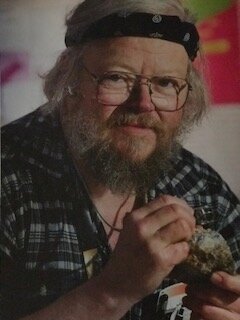 Obituary of David Stevens
Stevens, David
Of Bocabec, New Brunswick and Easthampton, Massachusetts, passed away after a brief illness on April 28, 2023, in the Saint John Regional Hospital in Saint John New Brunswick. Dave was born in Salem Massachusetts on May 14, 1948; he was the son of the late David Stevens and Virginia (Van Den Noort) Stevens and later his stepmother Ruth Berry Stevens. He leaves a brother, Daniel Stevens and wife JuJu Stevens of Gulfport, Florida, a step brother, Thomas Cross and wife Frances Cross of Dunnellon, Florida and numerous Cousins.
As a young boy he had a passion for minerals which carried through into his later years when he turned to prospecting to make his living. He attended Williston Academy in Easthampton and later the University of Massachusetts where he edited the Yahoo Magazine. He did light shows for major rock and roll bands including J.Giles Band, Jethro Tull, and the Allman Brothers. During this time he was also an outspoken political cartoonist. His involvement in his local Bocabec area community included talks at local schools regarding minerals to be found locally and their history, working with a local hockey team and as a representative for the province at national mining symposiums and finally as a cartoonist for local papers with hard line opinions on various political stances. He was the New Brunswick prospector of the year multiple times. Dave was an opinionated man with simple needs and he felt at home in his community.
By David's request there will be no visitations and a celebration of his life will be held at a later date. In lieu of flowers donations to Ella Richardson Fund c/o Pastor Dunfield or a charity of the donor's choice would be appreciated by the family.
On line condolences to the family or donations can be made at www.humphreysfh.com. Arrangements have been entrusted to the care and direction of Humphrey Funeral Home, 20 Market St, St. Stephen, NB
(506-466-3110)


Share Your Memory of
David