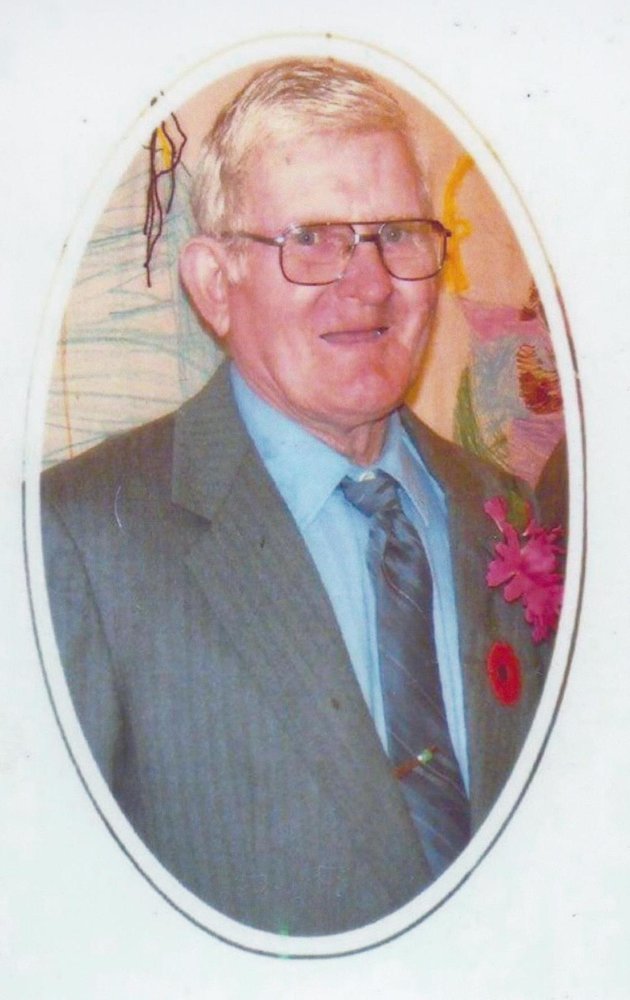 Obituary of Merle E. Stewart
Merle Edward Stewart
On January 9, 2021, at Charlotte County Hospital. Merle Edward Stewart, of Little Ridge NB went to be with his Lord after a struggle with Cancer.
Loving husband of Florena and father of Jane (Tony), Ralph (Dawn), Lorena (Dale), Kimberly (Ronnie) and Julie (Matt), chosen daughter Sadie (Cameron).
Merle passed away at the age of 84. He was born November 13, 1936 in Pleasant Ridge NB and attended the Pleasant Ridge School House.
He married Florena Jane Leavitt On October 26, 1962
Merle was very devoted to his Lord, and a faithful member of the Milltown Baptist Church.
He was very proud of his family. He always looked forward to spending time with his children and grandchildren. He had various hobbies including "Grampa's Garden" which he tended faithfully year after year right up until he became ill. His grandchildren are quoted as saying his garden stuff was "Always the Best". He always had through the years various farm animals cows, a horse or two and more recently his chickens".
When he retired from the Flakeboard he spent the winter making bird houses for is grandchildren, also the odd axe handle if the need was there.
He also enjoyed drives to Piskahegan and Pleasant Ridge he would tell us kids his memories of people who lived in the houses from generations past.
Merle was predeceased by his parents, Harold and Addie (Noddin) Stewart, brothers George and Harold, sister Irene Voutt, brother in law Milton Voutt; niece Anna Voutt, stepson Timmy Leavitt and his wife Kim. great grandson David Jacques and his dear friends Fred Muxworthy and Glenn Richardson.
In addition he is survived by brothers Fred (Charlotte), Roger (Linda) and sister In law Yvonne, Helena (Doug) Kent, Bertha (Ivan) Bernier, special niece Joan Beaumaster; grandchildren: Alecia, Aaron (Julia), Michelle, Amy(Alec), Gerald (Melissa), Angel (Scott), Carrie (Trevor), Josh (Megan), Dustin (Bailey), Justin (Jen), Sara (Richard), Colton, Maddie (Dylan), Kyle, and Michael. Also 20 great grandchildren, cousins, nieces and nephews.
Due to the current situation surrounding the pandemic; there will be no public visitation.
The funeral service in celebration of Merle's life will be held on Thursday, January, 14th, 2021 at 2:00 pm in the chapel of Humphreys Funeral Home.
Due to current restrictions from the Dept. of Public Health the service will be closed to the public. Immediate family members only will be in attendance. Those wishing to view the service may do so by clicking on the link below or copy & paste to your browser.
https://event.forgetmenotceremonies.com/ceremony?c=8e02ab13-360b-430b-8467-a059a03af90d
If you are not able to view during this time, the service can be accessed at any future time.
The interment will take place later in the spring at Oak Bay Rural Cemetery.
When tomorrow starts without me.
Please try to understand
That an Angel came and called my name
And took me by the hand;
The Angel said my place was ready,
In Heaven far above;
And that I'd have to leave behind
All those I dearly love.
But when I walked through Heaven's gates
I felt so much at home
For GOD looked down, smiled at me
And told me "Welcome Home."
So, when tomorrow starts without me.
Don't think we're far apart, for
Every time you think of me.
I'm right there in your heart


Share Your Memory of
Merle