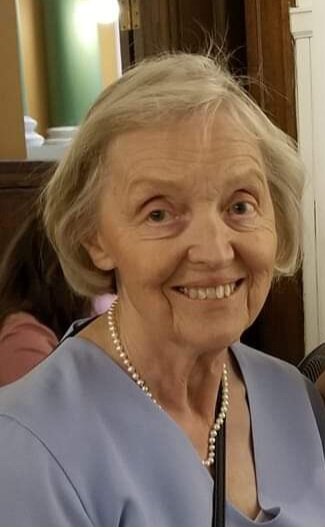 Gathering with the family
2:00 pm - 4:00 pm
Monday, July 24, 2023
Phillips Ells Jr. Memorial Funeral Centre
1199 Route 776
Grand Manan, New Brunswick, Canada

Get Directions


Obituary of Janet M. Ingersoll
INGERSOLL JANET - Peacefully, and with unimaginable strength, Janet (Huntley/ Dexter) Ingersoll passed away on Friday, July 21st, 2023 at the Grand Manan Nursing Home.
Born on February 19, 1938 on Grand Manan, N.B., Janet was the middle child of five, to Vance and Lottie (Bishop) Huntley. In 1980, at the age of 42, she fulfilled a life-long dream and attended New Brunswick Community College in St. Andrews to become a Registered Nursing Assistant, graduating top of her class. She then went on to work at the Grand Manan Hospital until her retirement.
Janet married Joseph Dexter (d. March 1, 1996) on April 13, 1955, and together they had five children – Julie Green (Bill Burns), Joan (John) Small, James (Debra) Dexter, Jelaine (Michael) Anstey, and JoEllen (Charles) Jensen.
After marrying George Ingersoll (d. April 14, 2006) on July 4, 1998, they shared special times together including a trip across Canada with an Alaskan cruise.
Janet is survived by her five children and thirteen grandchildren – Katie (Jimmy) Mullen, Kristy (Jason) Lowe, Col Jeremy Small (Robin) Small, Reuben (Carolynne) Small, Bailey Small, Jesse (Jessica) Dexter, Rachel (Kyle) Roode, Stephanie (Nick) Bartlett, Hannah (Lee Reid) Anstey, Sam Anstey, Mollie (MacKenzie Tamblyn) Jensen, Emma (Malcolm Bujold) Jensen, and Ben Jensen. Her thirteen grandchildren have also given her fourteen great grandchildren. She was a much loved and respected mother and grandmother.
Also survived by her sister Joyce (Gene) Tatton and brother Albion (Pauline) Huntley.
Predeceased by husband Joseph Dexter, husband George Ingersoll, her parents, sister Jackie (Eugene) Cowie, bother Robert (Mary-Jean) Huntley, and infant great granddaughter, Lainey Kristen Mullen.
Janet was an avid reader, a walker, a tireless volunteer at Church of the Ascension and Ladies Guild, and she loved her daily crosswords. She was a friend to many,
Sincere thanks to the staff at the Grand Manan Nursing Home for the care and kindness extended to both her and to the family.
Memorial donations to Church of the Ascension, Grand Manan Nursing Home Foundations, Action Ministries, or a charity of the donor's choice would be appreciated by the family.
The family will receive friends at the Phillip Ells Jr. Memorial Funeral Centre on Monday, July 24th, 2023 from 2:00 pm – 4:00 pm.
The funeral service in celebration of her life will take place at Church of the Ascension, North Head Grand Manan on Tuesday July 25th,2023 at 2:00 pm. Reception will immediately follow in Covert Hall.
For those unable to attend and would like to view the service; a video taped broadcast has been made available to view directly below. Simply copy & paste the link to your web browser and follow the simple registration process to access.
Online condolences to the family or donations can be made at www.Humphrey's.com. Arrangements have been entrusted to the care and direction of the Phillip Ells Jr. Memorial Funeral Centre, a service of Humphreys Funeral Home, St. Stephen, NB (506 – 466 – 3110)


Share Your Memory of
Janet