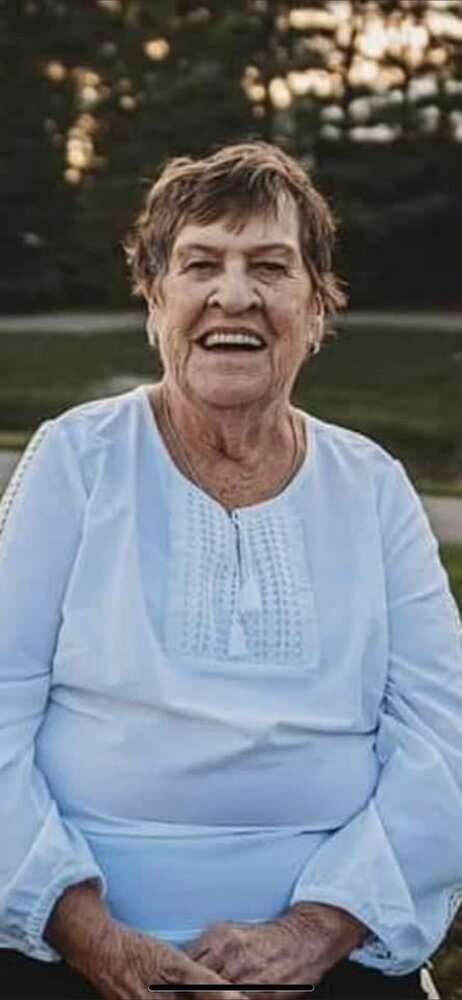 Visitation
6:00 pm - 8:00 pm
Thursday, December 22, 2022
Humpheys' Funeral Home Chapel
20 Marks Street
St. Stephen, New Brunswick, Canada
Memorial Service
2:00 pm - 3:00 pm
Friday, December 23, 2022
Humpheys' Funeral Home Chapel
20 Marks Street
St. Stephen, New Brunswick, Canada
Laying Caroline to rest
2:00 pm
Saturday, May 27, 2023
Rollingdam United Cemetery
370 Rollingdam Road
Rollingdam , New Brunswick, Canada
Laying Caroline to rest
2:00 pm
Saturday, May 27, 2023
Rollingdam United Cemetery
370 Rollingdam Road
Rollingdam , New Brunswick, Canada
Laying Caroline to rest
2:00 pm
Saturday, May 27, 2023
Rollingdam United Cemetery
370 Rollingdam Road
Rollingdam , New Brunswick, Canada


Obituary of Carol Margaret Gowan
It is with profound sadness that our family announces the passing of our mother, Caroline "Carol" Margaret Gowan (nee Johnson) of Waweig, New Brunswick on December 19, 2022, at Passamaquoddy Lodge in Saint Andrews, New Brunswick. Born on September 8, 1938, in Whittier Ridge, New Brunswick, the daughter of the late Roderick and Margaret Johnson of Whittier Ridge, New Brunswick.
She will be sadly missed by her children, Rodney (Elaine) Gowan of St. George, Carson (Myrna) Gowan of Waweig, Susan (late Kenneth. F) Henderson, Kim (Tony) Hicks of Upper Waweig, Karen Lee of Little Ridge. Grandchildren, Jason (Paula) Gowan, Christa (Ryan) Lane, Melissa (Glenn) Tremblett, Justin Henderson, Tania (Timmy) Gaddas, Amanda (Chris) Noftell, Ashley (Andrew) Stevens, Michael (Kaylie) Lee, Shannon (Jacklyn) Gowan, Bradley (Jenna) Gowan, Jessica (Mike) Winsor, Caitlin (Daniel) Hicks, Kelsey Gowan and several great grandchildren.
Carol is also survived by her siblings Christine Woods (John) of Bernie's Lake, NB, David Johnson (Marie) of Bangor, ME, Gary Johnson (Irene) of St. Stephen, NB, several nieces, nephews and cousins.
Carol was predeceased by her husband the late John "Jack" Gowan, infant daughter Donna, son Alvin Gowan, parents Roderick and Margaret Johnson, and brother Floyd Johnson.
She will be remembered for her joyful disposition; Carol always wore a smile that would light up the room and loved to be surrounded by people. Her love of people served her well during her dedicated years of service with Canada Post. Carol delivered mail rurally for 34 years, not including the many years she accompanied her parents, who also delivered mail. Her dedication was palpable, many joyful days were spent with children and grandchildren seated in the passenger seat, watching her do what she loved. So much so that her daughter continues in her footsteps to this day.
Family was the center of Carol's life, a perfect day was time spent with family at her home in Waweig, with grandchildren playing outside and learning how to tend a garden. She loved her great-grandchildren and was known as G.G to many. G.G was the great-grandmother who played hide and seek, played fishing games, colored, dressed up, and allowed Beckett to plaster her face in cream, all while wearing a smile. She was the pillar of the family, memories and love were plentiful and she will be cherished forever.
The family would like to thank the many people who cared for and loved our mom when she became ill. Special thanks go to the amazing staff at Passamaquoddy Lodge.
In celebration of our mom, family welcomed the public on Thursday, December 22, 2022 from 6:00 pm to 8:00 pm, with a service and reception to follow on December 23, 2022 at 2:00 pm at Humphrey's Funeral Home in St. Stephen, New Brunswick.
Donations in memory of Carol can be made to the Alzheimer's Society of Canada or to Passamaquoddy Lodge.
Friends are welcome to attend the graveside service on Saturday, May 27th at 2:00 pm at Rolling Dam Cemetery. Following the interment frineds are invited to attend a reception BBQ at the home of Rodney Gowan- 149 Main Street St. George NB.


Share Your Memory of
Carol