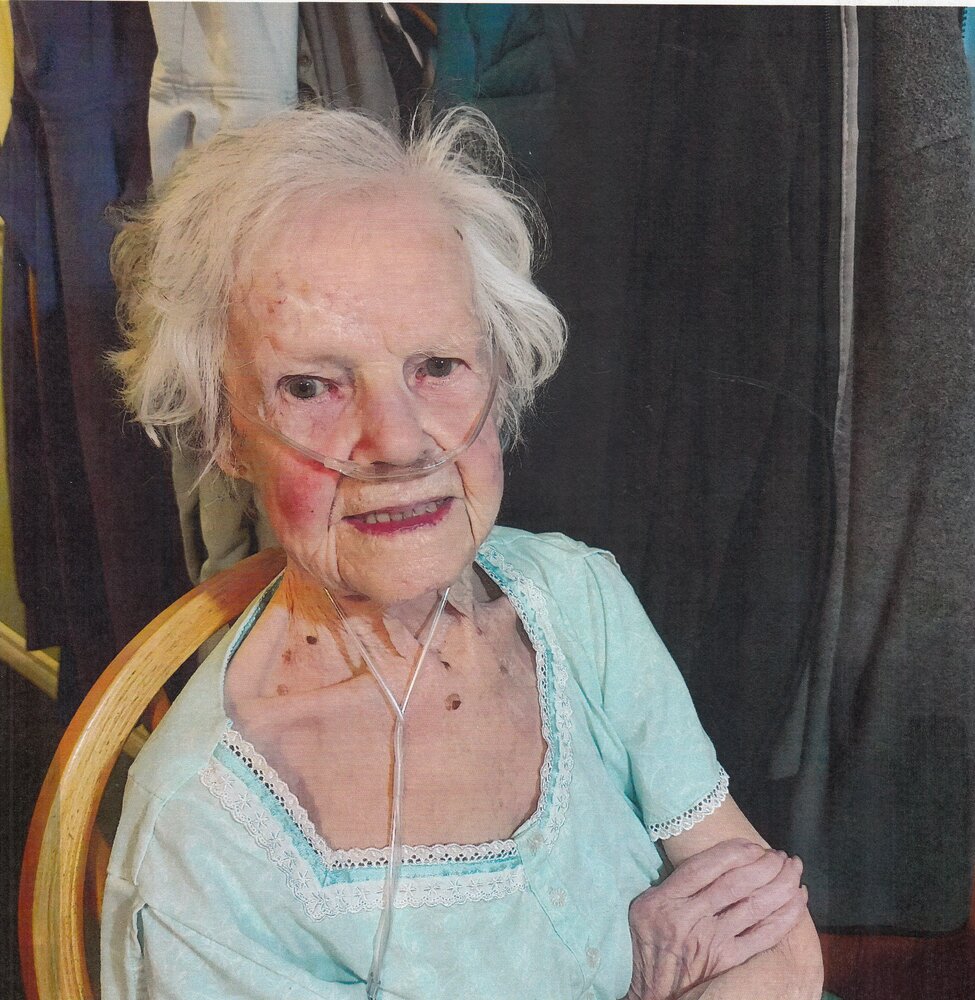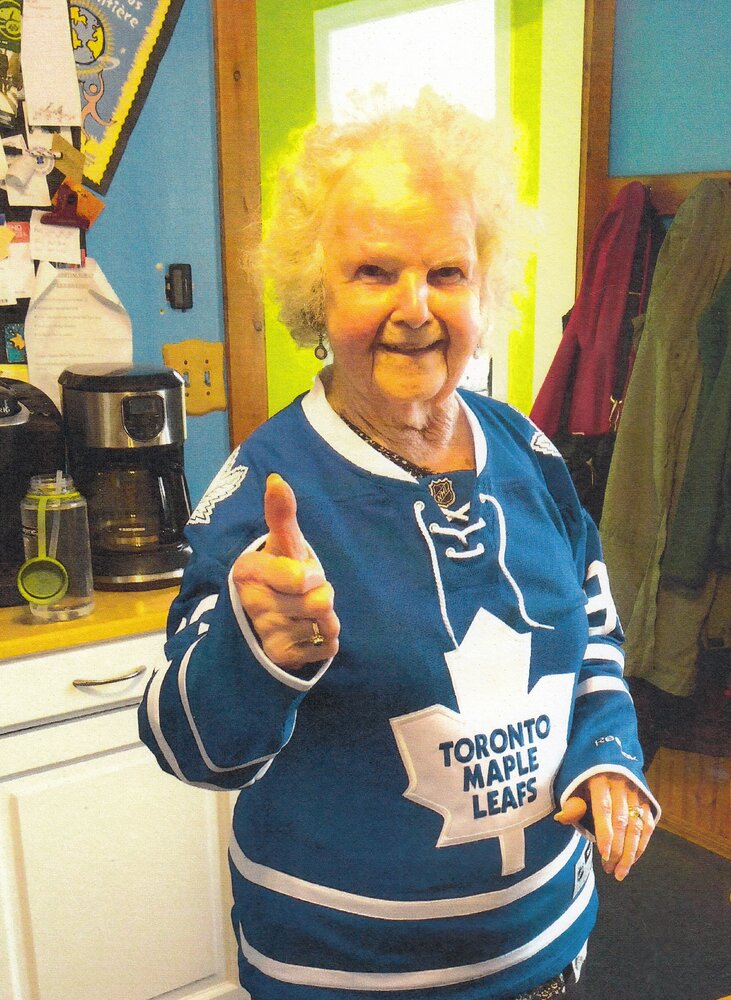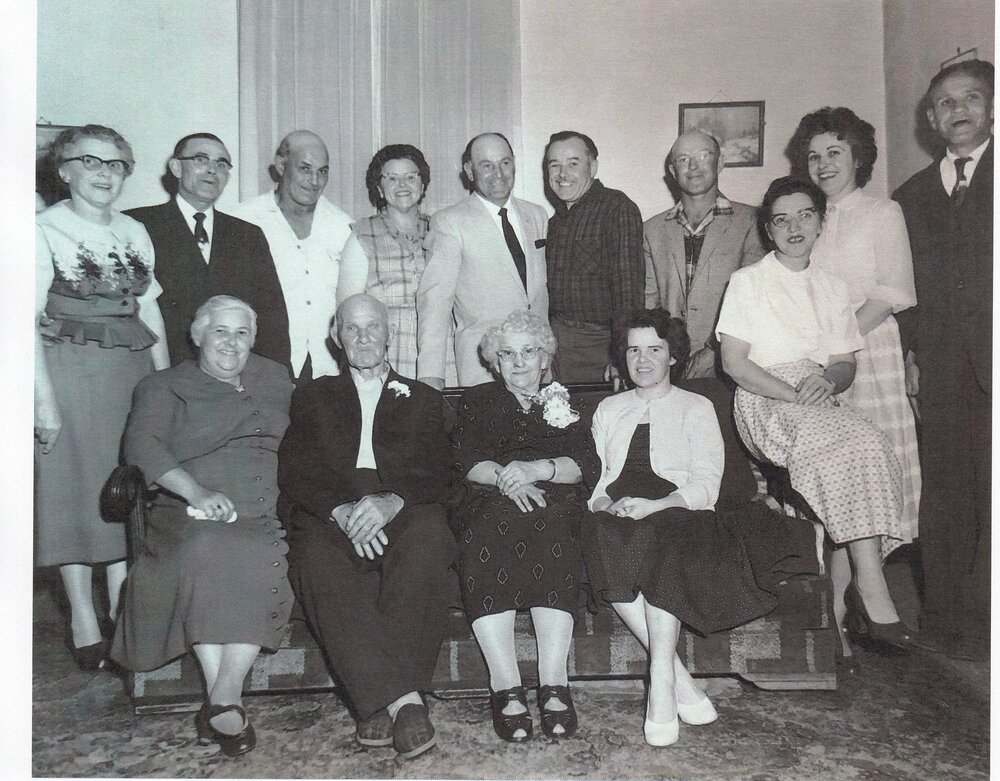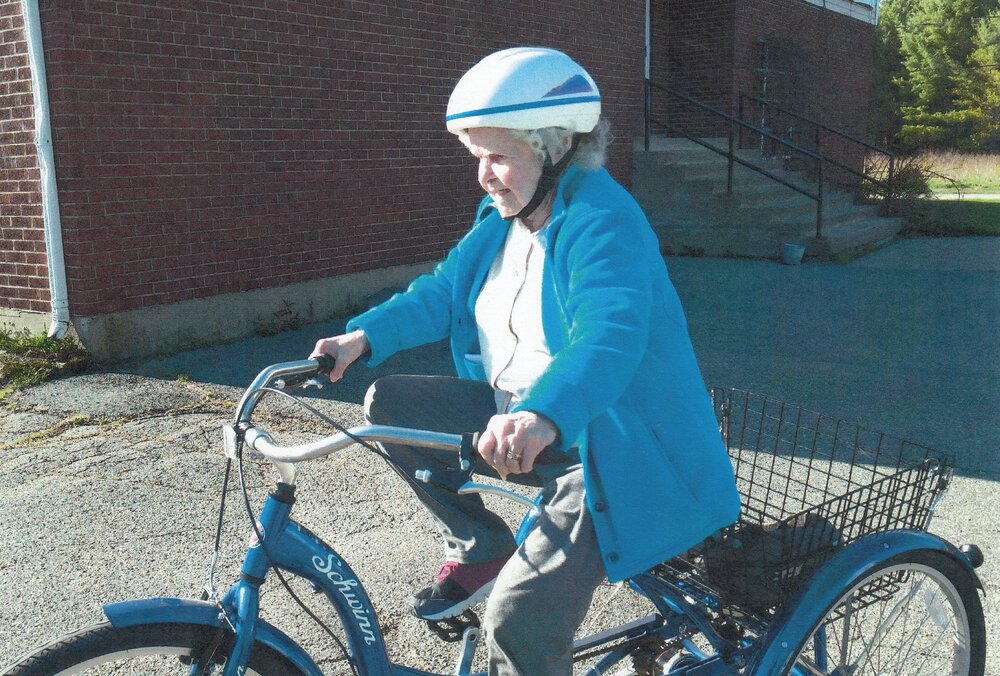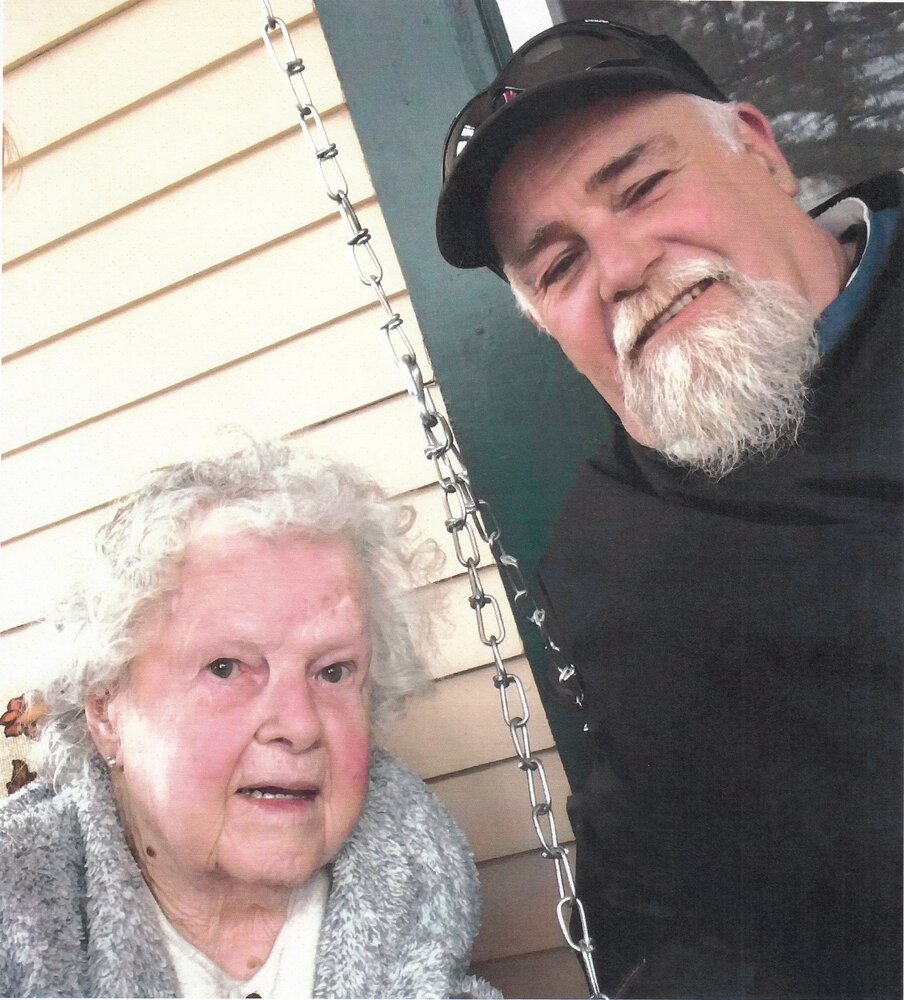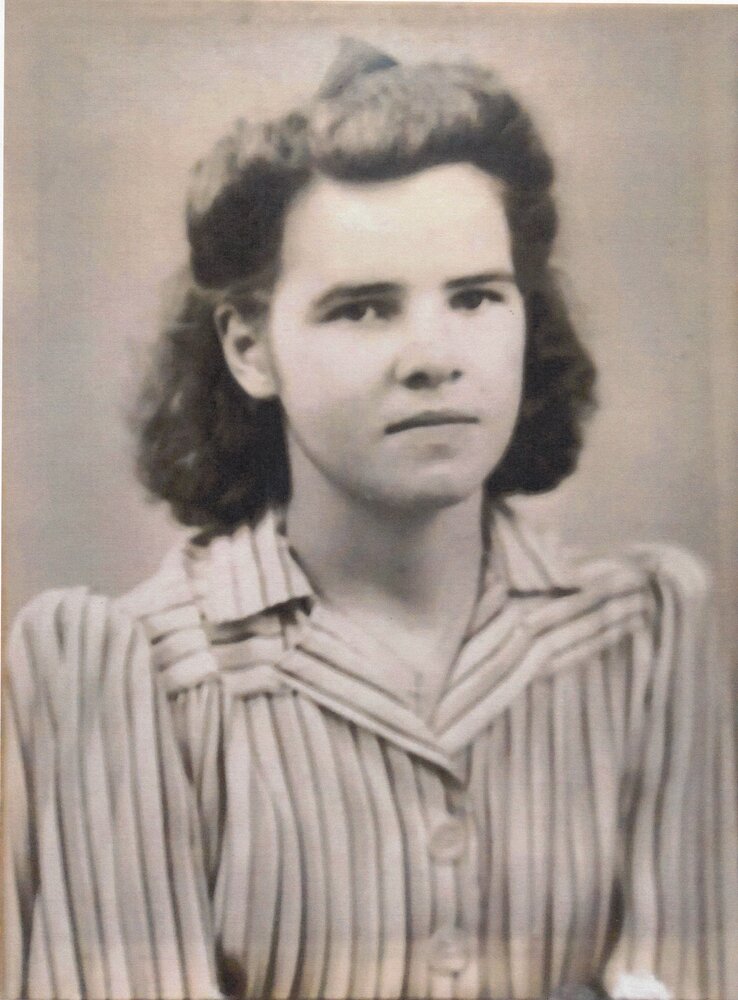 Obituary of Wanda K. Greenlaw
GREENLAW (KENNEDY), WANDA KATHERINE - May 6, 1925 - December 11, 2021
Wanda Katherine Greenlaw (Kennedy),wife of the late Bev Greenlaw Sr. and the youngest of 12 children of the late Isaac and Anna Pearl (Williams) Kennedy, passed away peacefully at her daughter's home in St. Stephen NB, in the embrace of her loving family.
Born into a warm, caring, eclectic and energetic family of 5 older sisters and 6 older brothers, Wanda enjoyed a nurturing childhood full of activity, in her words, "we swam all summer and skated all winter". Warm summer days were spent swimming in the St. Croix River, and frosty winter days and nights were filled with skating on local ponds, always under the watchful, caring eyes of one or more of her older siblings. Her lifelong bond with her sister and best friend, Elsie, was incredibly strong. Living near each other, the sisters shared their life experiences daily as they raised their children together and were often heard finishing each other's sentences.
In her youth, Wanda witnessed and learned from the varied undertakings of her energetic family members as they pursued an array of work, adventure and military service in different parts of Canada, New England and overseas. Following high school graduation, Wanda did further training at Miss Crabbe's Business School. She worked in Black's Harbour before marriage and later continued to use her skills in her husband's Plumbing & Heating business as she raised their 5 children with care and help from her extended family. Later, she returned to the workforce and served nearly three decades as a key employee in the NB Department of Motor Vehicle and Revenue Office. At this time, with labour, care and support from her brother Charlie and his family, Wanda was able to make a new home next door to Charlie's in a house that had been built by her father and brothers.
Central to Wanda's core being, along with the strong moral compass and compassionate character she inherited from her parents and siblings, was her enduring joy in being physically active and mentally open to new ideas, discoveries and adventures. Well into her 80s and 90s, 'Mimi' as she became affectionately known by all, accompanied her grandchildren and children to see plays on Broadway, and on exploratory journeys elsewhere in Canada, the US and the UK.
She never relinquished her love of movement, and was known throughout the local area for her daily walks covering the length and breadth of St. Stephen and Milltown. When the civic centre opened, on days too warm or too cold to be outside, she became one of the regulars taking advantage of its walking track. As she moved deeper into her 90s, walking these lengths became more painful for her feet and legs, so for her 93rd birthday, her family gave her a three-wheeled adult bicycle, so she could continue to get her daily workout, with less pounding on her joints. Her daily rides became less far and less frequent continuing to the end of this spring. Mimi also benefitted from weekly
exercise programs at Bone Physiotherapy Clinic, and became a 'poster person' for the clinic's seniors' exercise program.
Her openness to experience was matched by her openness to life, to ideas and to people. She loved reading, teaming up with one of her children or grandchildren to complete the daily crossword, or getting everyone engaged in an intense - and sometimes interminable - game of Skip-Bo.
Graced with a keen sense of humour and a generosity of spirit, Wanda's quiet energy, personal warmth and non-judgmental nature quickly endeared her to all who met her.
Of course, these traits were enhanced greatly for her family members and friends who were among the fortunate recipients of her internationally renowned 'Mimi Socks'. Over the decades she crafted and gave away hundreds of pairs of these bright, colourful, warm and lovingly handknit socks, each pair cherished by the lucky wearer.
And, while her socks warmed the hearts and feet of many, there were legions of others who found equal pleasures in her memorably flavourful, tender-crusted apple pies, or her specialty dark chocolate with creamy vanilla-butter-filling cookies or her famous banana bread. As with so many gifted bakers, Mimi only occasionally indulged in her own delicious baked goods, preferring either of her two favourite indulgences - a warm cup of tea or, at the other extreme of temperature, ice cream! Wanda's love of a good tea and conversation was often shared with her niece, Candy, whose frequent visits were much cherished. To say that Wanda loved her tea and ice cream is to dramatically understate her passion for these timeless pleasures and for those lucky to share them with her.
Mimi was also a deeply loyal person, perhaps exemplified most clearly by another of her loves. Wanda held a lifelong passion for the Toronto Maple Leafs. Her 93rd birthday also featured the gift of a Maple Leafs jersey from her grandson - himself a fan of the Montreal Canadiens. What deeper expression of genuine love could possibly be imagined? Mimi wore the jersey proudly, following the Leafs' recent historic 15 of 17 Win streak.
All of us in her family - and truthfully, everyone who met or spent any amount of time with her - will miss Mom, Mimi, Ma, Mum, Wanda greatly. She was quietly inspirational to so many who met her, and equally beloved. We know and appreciate how fortunate we are to have had her in our lives for as long as we have. As we grieve, we are grateful.
Wanda's family wishes to thank the Charlotte County Hospital Staff for all the years of excellent care for our mother. During the last year of her life the exceptional and personal support Mimi received from the Extra Mural Program, including Home Care Support, was extraordinary. Literally until Mimi's last breath our entire family was
guided by the dedicated, capable care provided by the Extra Mural team. In particular we would like to thank "Ste. Theresa". And, for helping our mother live a full and healthy life we are deeply indebted to Dr. Lesley Pinder.
Wanda (Mimi) is survived by her children Brenda Clough of Lincoln, ME, Bev Greenlaw (Sylvia Hamilton) of Halifax, NS, Jane Greenlaw of Halifax, NS, Nancy Greenlaw (Terry MacMillan) of St. Stephen, NB and daughter-in-law Evelyn Foster of Pomeroy Ridge; grandchildren: Christopher Clough (Anne Marie), Katie Ziolkowski, Isaac Armstrong, Mike and Ashley Foster, Shani Hamilton Greenlaw (Billy Peacock), Keelin and Marcus Greenlaw (and their father Bill Wicken); great grandchildren Waylen Clough, Jacob Armstrong, Gabrielle and Isaac Richard, Aiden Tomah, Aubreanne Goodine, Ryan and Emma Foster; and numerous nieces, nephews and cousins.
Wanda was predeceased by her husband, her parents, her siblings: Reta, Barb, Ken, Fred, Lucy, Isaac, Burton, Charlie, Marguerite, Clarence and Elsie; and her son, Joel Isaac Greenlaw.
There will be no visitation. A memorial graveside service in celebration of her life will be held on the day of her birth May 6 in 2022 at 2:00 pm at St. Stephen Rural Cemetery. Rev. Marion Jamer officiating.
In lieu of flowers, donations to Extra Mural Program – St. Stephen Unit or Charlotte County Hospital Foundation would be appreciated by the family. Online condolences to the family or donations can be made at www.humphreysfh.com
Arrangements have been entrusted to the care and direction of Humphreys Funeral Home, 20 Marks Street, St. Stephen, NB E3L 2B2 (506 – 466 – 3110)


Share Your Memory of
Wanda