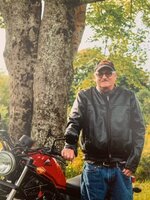 Tony C. Parker
PARKER TONY C. – born January 25th, 1956; passed away at the Charlotte County Hospital on Saturday , March 19, 2022, following a brave battle with brain cancer. He was surrounded by loved ones.
Tony was born to Juanita (Mathews) and James Parker in Eastport, ME. He called Campobello Island N.B. Canada home his entire life. He was a proud father of four boys. Tony was truly a free spirit. He had a sarcastic sense of humor and often enjoyed telling stories. He loved being outdoors. He spent most of his life on the water as a fisherman. His favorite pastime was cruising the open road on his Honda Motorcycle.
~"How We Spend Our Days Is, Of Course, How We Spend Our Lives." ~ A.Dillard
Tony is survived by his parents and four sons: Sandey Parker (Amy) of New Hampshire, U.S.A, Nathan Parker of Campobello, N.B., Brennen Parker and Brett Parker (Rachael) both of Saint John, N.B. One grandson Mason Parker (Sandey) . Two Sisters : Julie Fletcher (Brian) of Campobello N.B. and Diane (Ricky) of Meteaghan, N.S., One brother: Jamie Parker (Diana) of Campobello, N.B. As well as several nieces, nephews, and cousins.
Tony chose to be cremated. A graveside memorial service will celebrate his life at Wilson's Beach Community Cemetery on Thursday, July 14th, 2022 at 2:00 pm.
In lieu of flowers or donations, we ask that you take a moment to hug your child, family or friend.
Take a walk in the woods or along the beach and take in the moment. Time Waits For No One.
In lieu of flowers donations to a charity of the donor's choice would be appreciated by the family. On line condolences to the family or donations can be made at www.humphreysfh.com
Arrangements have been entrusted to the care & direction of Humphreys Funeral Home, 20 Marks Street, St. Stephen, NB E3L 2B2 (506 – 466 – 3110)